List of characters needed and taken.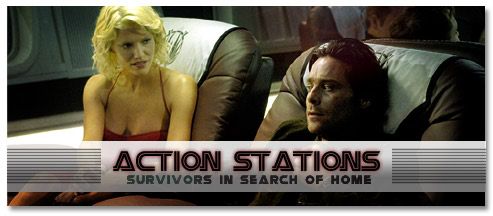 [ APPLICATION | ETIQUETTE GUIDE | CHARACTER ROSTER ]


In the interest of keeping my sanity, I haven't added every single character here.
Email madmartyr@gmail.com if you absolutely must have a minor character that is unlisted.
GALACTICA COMMAND (C.I.C.)

William Adama
Anastasia Dualla -
dualla
Felix Gaeta -
felix_gaeta
Saul Tigh


FIGHTERS

Raptor Pilots:
Karl Agathon (Helo) -
helo_agathon
Sharon Valerii (Boomer) -
raptor_pilot
Margaret Edmonson (Racetrack)

Viper Pilots:
Lee Adama (Apollo) -
viper_instincts
Brandon Costanza (Hot Dog)
Louanne Katraine (Kat)
Kara Thrace (Starbuck) -
bitchtookmyride


DECK CREW

Jane Cally -
cute_cally
Galen Tyrol


POLITICIANS

Gaius Baltar -
dukesransom
Billy Keikeya -
wilhelmkeikeya
Laura Roslin -
presidentroslin
Tom Zarek


CIVILIANS

Samuel Anders
Dr. Cottle -
10drluvincottle
Shelly Godfrey
Ellen Tigh -
ellentigh


KNOWN CYLON AGENTS

Leoben Conoy
Number 3 (D'anna Biers)
Number 5 (Aaron Doral)
Number 6 (Baltar's conscience) -
areyou_alive
Number 6 (Shelly Godfrey)
Number 8 (Caprica Sharon) -
sharonvalerii
Simon (Caprican doctor)


NOTE: Consult the Etiquette Guide for my guidelines on having multiple Cylon copies in this game. Yes, they are allowed.